Post by Sorvan on Nov 6, 2005 5:30:51 GMT 1
I'm sure that I discovered Doctor Who a little differently from most of you. I found the Doctor in the school library in around 1980. It was only after telling one of my friends about the book "Doctor Who and the Carnival of Monsters" that I was informed there was actually a TV show. I managed to find a few more books, but it wasn't until 1983 that I actually saw an episode thanks to a video rental place that had a pirated copy of The Five Doctors (I was living in Kenya at the time, all the videos in the stores were pirated). A few years later (and living again in Canada) I discovered that Doctor Who was on TV where some of my relatives lived, and I managed to convince them to send me tapes. I managed to infect quite a few people in Winnipeg before Doctor Who finally started showing on a local channel a few years later.
I remember thinking that it would be really cool to have a full size TARDIS when I was younger. My first build was 1 foot tall (made out of card stock) with the specifications from the Doctor Who Technical Manual. My next build was a computer model. I don't remember what the program was called (back in 1989), but I do remember that it didn't have a graphical user interface, so I had to feed it a series of coordinates, and tell it which coordinates to use to build triangles. Over the years my fanaticism faded, but with the new series I became interested again, and on one of my romps through the Internet discovered the people were building full size TARDISs, and that's really cool.
So here I am. I've bought a fresnel lens, and have started planning my build. I've been spending a lot of time working in Corel Draw to figure out exactly what I'd like to do. I'm planning my build around the Trench plans and since I'll be putting the thing outside, I'm planning on making everything sloped so that it'll be able to stand up to the rain and snow a bit better. I'll be building the thing out of dimensional lumber and plywood (no MDF), and have been thinking about fiberglassing the roof to give it a bit more protection (but since I've never used fiberglass before, we'll see).
I've been planning and doing research, but today I decided that I wanted to actually play with my tools (I got lots of tools), so I grabbed some scrap wood and made a window frame.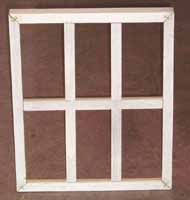 As you can probably see, I wasn't too concerned with measuring accurately. I just wanted to see if building the windows this way would be a good idea and to get an impression if this was the right width of the bars for me (so now I'll know how large I need to get the glass).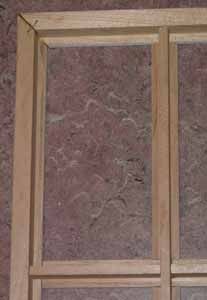 I'd like to have windows that can open, but in an outdoor environment I need to build them a little differently than many of you. I'll also need to build a frame to fit around the window (which will fit into the opening of the wall) which will need to be just right to be able to open properly yet still keep the weather out. I just have to say that I'm thrilled with the detailed pictures that people have posted. I can see how the windows in the real police boxes worked, so I'm going to try to emulate them.
I'm thinking that perhaps what I should do is to build one "perfect" set and then see about casting them in resin. I've really got to pick up some resin to play with. The only resin I've used so far has been to patch the crack at the bottom of the sewer stack in my basement (yay, fun!).
The next thing I want to do is find some really nice pebbled glass. I love the stuff that Timegirl and mantawrays have, but the website Timegirl mentioned doesn't appear to exist anymore. Hopefully I can find some of that stuff somewhere else.
Colin